Portraits of Monks and Monklets with a few sprinkles of Buddhas, nuns, and nunnies …
---
The screaming headline aside, travel to Bhutan is very safe and is fairly straight forward provided that you are organized.  But as this blog is based on our travels in 2008, please check with the Bhutan Tourism Board for the latest guidelines as these might have changed.
At the time, we (i.e. all foreign travellers) were required to use a Bhutanese tour company to organize the itinerary and to spend a minimum of US$200 per person per day.  To ensure that foreign travellers comply with these rules, the Royal Bhutanese government devised a prepay system.  The net effect is that the tourism dollar stay inside the country and help drive the local economy.
The mechanism is simple: find a local travel company; agree on an itinerary with the travel company; get an invoice for the trip based on the agreed plans; wire money to the Royal Bhutanese National Bank in New York; upon receipt of the money, the Bhutan government issues a 'visa clearance' confirmation; tour company contacts Druk Airline (the sole airline with flying rights into Bhutan) with the visa clearance confirmation details; Druk Airline issues tickets; traveller gets an eticket and fly into the country; and finally, at the immigration counter, immigration team cross-checks the traveller's details against a list of approved (read: prepaid) travellers.  Enter and enjoy!
Although connecting the dots before the start of the trip was cumbersome, once we entered Bhutan, the overall experience was carefree.  All of our costs were covered by the minimum spend of US$200 per person per day.  As such, our lodging, food, driver, 4×4 with fuel, and tour guide costs were already covered.  Furthermore, as we not were travelling with a group, we had the freedom to stop and go as we pleased. We were masters of our own schedule!
But the freedom of a private tour was a double-edged sword for us as we made a BIG MISTAKE with the inital itinerary.  As we had total freedom to devise the itinerary, we were originally overly ambitious.   Using the Lonely Planet book as our guide, we started planning one year in advance. Our imagination resulted in us going deep into Bhutan.  On paper, it looked do-able.  But, in reality, it wasn't.  Whilst Bhutan is a small country, the mountain roads were somewhat patchy and do not always follow the shortest route.  Fortunately, a friend who visited Bhutan previously saw our itinerary and recommended that we scale it down, otherwise, we spend too much time inside a car.  Fortunately, we had enough time to work with the travel company to rearrange the itinerary.  But, the last minute change (i.e. 3 months before the trip) meant that all the good hotels were fully booked.  As such, we ended up with places that were definitely questionable (see appendix for details).  One place had a live electrical wire near the shower, and in another place, we had just a trickle of cold water for the shower.  Unfortunately, as we were subjected to a daily minimum spend, we didn't "save" any money by staying in a lower quality hotel.  Any excess is kept by the government to reinvest in local tourism schemes.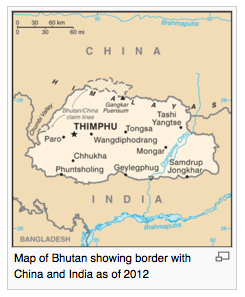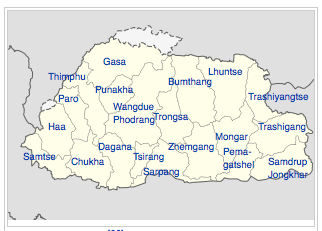 Sufficiently scaled back, our new itinerary would take us only as far as Bumthang.  Over 14 days, we would hit the festivals along the Paro-Bumthang route. The updated route was: Paro to Haa Valley to Thimphu (the capital city) to Punakha to Wangdue to Bumthang.  From there, turn back to Punakha and then to Paro before flying to Bangkok for our connecting flight home.
But, before hitting the festival trails, we had to visit the famed Tiger's Nest Monastary in Paro.  To not see it would have been deeply criminal.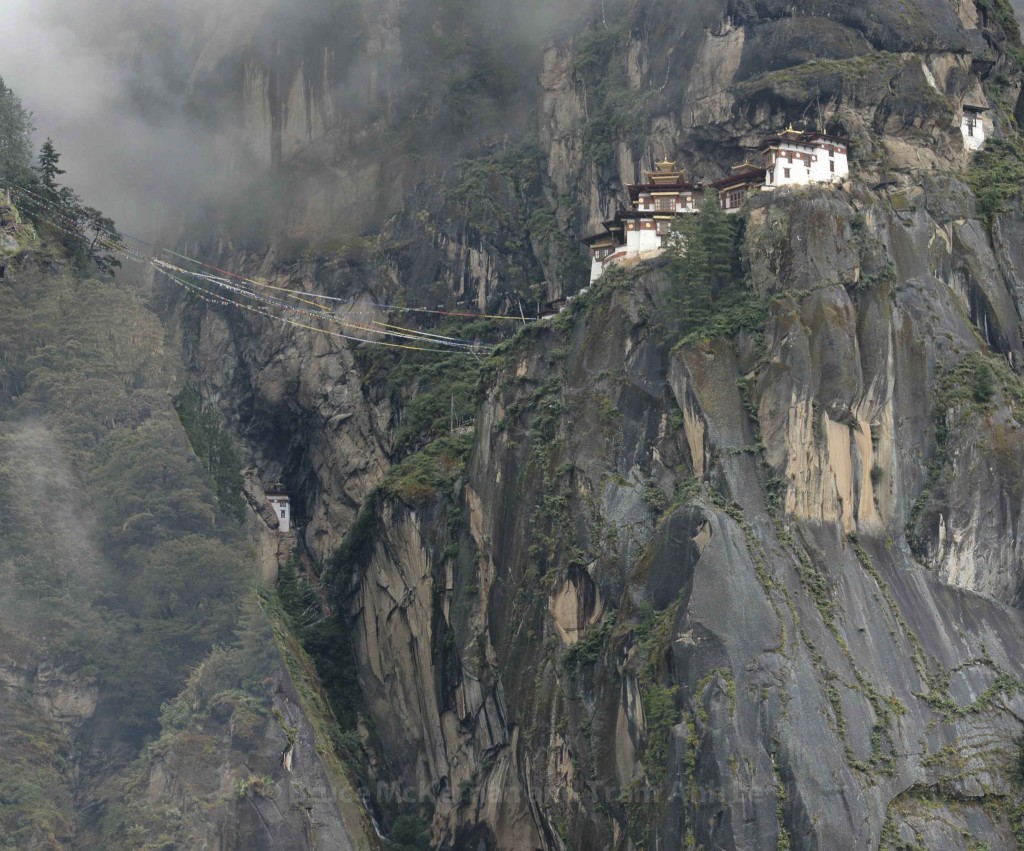 The hike to Tiger's Nest was not a difficult hike — but, it was a long hike up.  There was only 1 way up (hike) and 2 ways down (hike or mule).  The mules bring up supplies and they are only used to bring down injured tourists.  Our local guide mentioned that one hardcore endurance hiker once managed to do the hike up in 45 minutes.  But, for most people, 2-3 hours is the norm.  On the day we went up the path, it was muddy by the morning rain and as the mules shared the same path as us, the trail was ripped up by the hooves. Fortunately, we were prepared and had walking sticks with us.  These were useful to go up, but moreso for heading down as the path was steep and slippery from the mud (and mule dung)!
( CAVEAT to animal lovers:  mules are work animals in Bhutan.  They are not accustomed to being touched/petted.  As such, they will kick. )
Bhutan is such an incredible country that I think pictures will do this country far better justice than my words.  As such, I encourage you to view the picture diary which is available using the image link below.  For the remainder of this blog, I will instead concentrate on lasting memories of the country and on sharing some tips to anyone planning a trip to Bhutan.
MEMORIES of BHUTAN:
AMAZING festivals.  And what makes these festivals even more special is that these festivals are for the locals and not for the tourists.  We were there to witness the Bhutanese celebrate and enjoy THEIR festivals.  There were no "Disney" moments.
Rowdy and boisterous boys at the fire festival.
Big surprise of the trip:  India has a big military presence in Bhutan.  Presumably, this is to insure that Bhutan doesn't get annexed by China (like Tibet).
Mushroom soup, mushroom soup, mushroom soup, mushroon soup!  Whilst perfectly edible and at first quite delicious, we had mushroom soup as a starter almost every night for 14 days.  It looked like the hotels and tourist restaurants follow the government's advice on how to feed the Westerners to the letter!
"We have no more chicken" – waiter at a top restaurant in the capital city of Bhutan. But, chicken was featured in 2/3 of the menu!
 Bryan Adam's "Summer of '69" — song was very popular in 2008!
Animals everywhere — cows, yaks, dogs, monkeys, etc. on the streets and even the highways. Dogs sleeping in the middle of a busy road.  Bhutanese are Buddhists and therefore will avoid harming animals if possible.  As such, dogs have no fear of cars.
Non-stop canine opera nightly and constantly!  (I love, love, love dogs …. but, not on this trip!)
TIPS:
start planning the itinerary early as the better hotels are quickly booked;
make your appointed travel company 'work for you' and get their feedback about timing, duration, distance, etc.;
flights to/from Bhutan are severely limited so in order to get the travel dates you want, pay for this trip as soon as you can to guarantee your seat (!);
have robust travel insurance as flights are often cancelled/delayed if there is fog or poor weather (Paro Airport is a 'sights only' airport — in other words, pilots can only land the planes if there is good visibility) and and give yourself enough time to make your connecting flight;
bring walking sticks (or 2) if you are visiting Tiger's Nest;
bring ear plugs, otherwise, you will suffer from non-stop canine opera at night;
bring flashlights to see the ubiquitous drainage holes and broken cobblestones;
avoid food that have been sitting around too long — I foolishly ate some buffet food that didn't look too good (should have trusted my instincts and overruled my stomach) and regretted this decision for several days thereafter!
If you like spicy food or want to try authentic Bhutanese food (i.e. not cooked to please the Western palate), then ask if it is possible to have the 'driver's food'.  This is typically more varied and delicious.
Sadly, the Wangdue Phodrang Dzong was completely destroyed by a fire in June 2012.  It was a major historic and religious site.  And, it was the place where we saw the Black Hat Monks dance (seeing it wipes away all sins!) as well as the colorful masked dancers.  As such, please consult with your tour operator if you are heading to Bhutan solely for the festivals.
have a flexible attitude — anything from landslides to 'yak block' can cause delays.
Our tour company was Yu-Druk Tours based in Thimphu.  We selected this company based on the Lonely Planet's recommendation — it is reputed to be large enough to handle overseas queries but is small enough that the owners pay personal attention to the itinerary.  Although we really liked our tour guide (Tshering) and driver (Pimba) and would recommend them unreservedly, we would not recommend Yu-Druk.  While there are no red-flags with them, we cannot help but be disappointed that they didn't advise us at the outset that our original itinerary was overly ambitious. Furthermore, the goal of this trip was to see the local festivals, but, Yu-Druk head office got some of the festival dates wrong!  Fortunately, as we had our own car, driver and guide, we were able to make changes to our schedule and thus were able to shift the logistics around by ourselves.
If you can, try to get recommendations or client testimonials before selecting your tour operator.  However, if you can't then don't be alarmed —  according to The Lonely Planet:  "all operators in Bhutan are subject to government regulations that specify services, standards and rates.  You are quite safe no matter which company you choose, though the large companies do have more clout to obtain reservations in hotels and on Druk Air."
Appendix:
---