The seeds for the short weekend break to Sri Lanka were actually first sown in Uzbekistan during our 21-days travel along the Silk Road in 2010.  Central Asia proved to be exhilarating but exhausting and during this trip, both Bruce and I decided that our next trip would be … more luxurious.
The criterion for the trip were:  (1) it had to be close to Hong Kong because this was planned as a long weekend break during Easter and we didn't want to waste time with long travels; (2) it had to be a place that was culturally interesting; (3) and it had to be somewhere we've never been to before.  After many hours of internet research, I'd narrowed the options to either Sri Lanka or Bali, Indonesia.  In truth, we almost decided on Bali because logistically it was easier (lots of direct flights) whereas with Sri Lanka, we had to transfer at Singapore.  But the vote swung over to Sri Lanka once I started looking at the country in more depth.  We wanted a luxury holiday as an antidote to the Silk Road trip and luxury was absolutely possible in Sri Lanka — especially in the Hill Country.
We stayed in a converted hotel bungalow with a magnificent view of the surrounding tea plantations and pristine lakes.  Our goals during the 3.5 days stay were quite simple:  to read books, to take short strolls along the tea trails, to eat well, and most importantly, to relax.  Eating well was easily achieved as the hotel had a private chef who catered to all of our wishes (prior to arriving, I'd contacted the hotel to advise them that I would like a chocolate birthday cake to celebrate Bruce's upcoming special day … and the chef produced the most amazing creation!) and relaxing was unavoidable as we had butler service and the staff looked after us very well.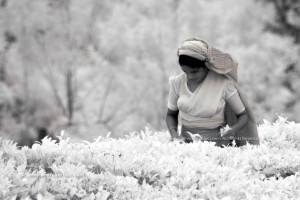 And of course, interspersed amongst the eating, relaxing and reading, we took advantage of our location to do short photography walks.  Unfortunately, it rained often when we were there, however and thankfully, the downpour came in short bursts.  More importantly, the rain cooled the afternoon heat and the moisture in the air enhanced the glorious landscape colours.
Sadly, the enjoyable weekend break ended rather quickly but both Bruce and I vowed that we would return again.  Little did we know then that we would return to Sri Lanka just four months later!  We typically don't like to return to places because we like to find new travel experiences.  That said, our short hop into the Hill Country was merely a quick introduction into one small facet of the country.  As such, we felt no guilt returning again so soon thereafter.
On the advice of a friend who is a professional photographer and world traveler, we returned in August 2011 specifically for the Esala Perahera festival.  Our friend predicted that the very nature of the popular festival would change in response to the surge in tourism following the end of the civil war.  As such, it was her advice that if we wanted to see this festival, the time to do it was NOW before mass tourism spoiled it.
The night time festival spanned 10 days during which a procession of dancers, elephants, singers, musicians, etc. followed a route around Kandy.  The highlight of the procession was the viewing of one of country's holiest relics (the Tooth of the Buddha).  The locals crammed along the procession route during the heat of the day to secure their viewing spot.  For us (the tourists), we were there to see the festival; but for the locals, they were there to participate in a religious experience. As such, it was heartbreaking to see the devotees (particularly, the elderly) faint during the intense heat and be rushed away by the medical teams because it meant that they had lost their viewing position.
We timed our visit so that we would see the final three days.  For the first two nights, we used the hotel seats because our hotel had the best viewing platform.  On the third night, however, we decided to strike out on our own.  It was a risk because we were not guaranteed a better location to photograph.  But, we felt that we've exhausted the perspectives from the hotel seats and we wanted to capture the festival from a different angle. Unfortunately, all the seats along the festival processions were sold out and at one point we looked into purchasing a spot on someone's balcony.  Somehow, fortune bestowed a smile and we found a shopkeeper who had 2 seats directly on the street to sell.  Needless to say it was costly.  But, we managed to secure a great spot.  (Word of caution: when we returned later that day to take our seats, the shopkeeper showed us seats six rows back from the street level; as a result, we protested and demanded a full refund.  Given that we paid X times over the 'official' price, the shopkeeper relented and gave us the seats that he'd earlier promised.)
In short, the Esala Perahera was simply magical and I'm delighted that we followed our friend's advice to go see it.  Although I would love to go back and see the festival again, there is a part of me that is afraid to do a repeat.  I fear that somehow a repeat won't meet expectations — i.e. it would be hard to recreate that powerful magical first impression.  That said, there is plenty more to Sri Lanka that Bruce and I have yet to visit.  I understand that northern Sri Lanka is very different from southern Sri Lanka; likewise, central Sri Lanka (where we've been to) is vastly different from the other regions.  As such, we have plenty of scope to make more (new) first impressions . . . .  Succinctly, we'll be back!
Videos:
Festival Tips:
The festival procession last for hours so make sure you have dinner beforehand, and/or bring along snacks and drinks.
Hotel rooms during the festival period book up quickly – for the best rooms, you may need to book up to 6-8 months in advance!
The hotel with the best view is the Queens Hotel.  Despite this, not all the seats have unobstructed views therefore you'll want the front row or the seat adjacent to the street.  A request to the front desk/concierge is not sufficient.  If you want the best seats, you'll need to tip the staff to guarantee the best seat.
Seats alongs the procession route can be purchased privately; you'll need to negotiate terms with the shop owners.  It is advisable that you book seats as far in advance as possible as these are in high demands.
The festival route is long and the procession moves slowly.  As such, the festival continues well into the wee hours (especially the last night).  Thus, for anyone who is a light sleeper, be sure to ask for a room away from the main street to avoid the street noise.
Before the start of the festival, the mahouts scrub and wash their elephants near the temple grounds.  Thus, this is an excellent opportunity to get close to (and photograph) the elephants at play.
Photography Tips:
This festival was extraordinarily difficult to photograph.  The first challenge is to find the optimal location with a good viewpoint.  The second challenge is to suppress the gut inclination to use flash.  Flash is often over-used and often used incorrectly.  Photography with flash at this festival would be inappropriate as the harsh light destroys any sense of atmosphere and mystery.  Instead, increase the ISO sensitivity, open the aperture, and/or decrease the shutter speed.  Best to take sample shots of the crowd before the festival starts to get the right combination of ISO/aperture/shutter speed.  In fact, some of my most interesting shots during the festival were taken during this experimentation phase.
+   +   +   +
Appendix:  Please note that all of our travels are fully funded by ourselves.  Without exceptions.  As such, the opinions/ viewpoints/ recommendations/ critiques on this website are wholly our own and are not influenced by commercial interests.
For the Easter Break trip, we stayed at the Summerville bungalow managed by the Tea Trails (www.teatrails.com) and had the lovely Garnet Room garden suite.
For the Esala Perahera festival, we stayed at the Queens Hotel in Kandy.  Unfortunately, we had problems with the reservation (despite multiple email confirmations) and thus it is highly recommended that anyone staying here double/triple check their reservation status.  In addition, I would also advise visitors to plan their fire exit route once you've have checked-in as the hotel is vast and the walkways are somewhat confusing.
As we wanted to avoid the hassle of staying in Colombo and wanted to be reasonably close to the airport, we stayed at the wonderful W-esque The Wallawwa hotel (thewallawwa.com).  It was a gem of a surprise — it was close to the airport but without the hullaballo and noise.  The hotel is small enough to provide personalized serivce and large enough to exude a cool, modern and yet colonial charm of a great manor house.  Furthermore, food was amazing and we enjoyed the spa.
For information on entry visa to Sri Lanka, this site may be helpful: http://srilankavisa.org
---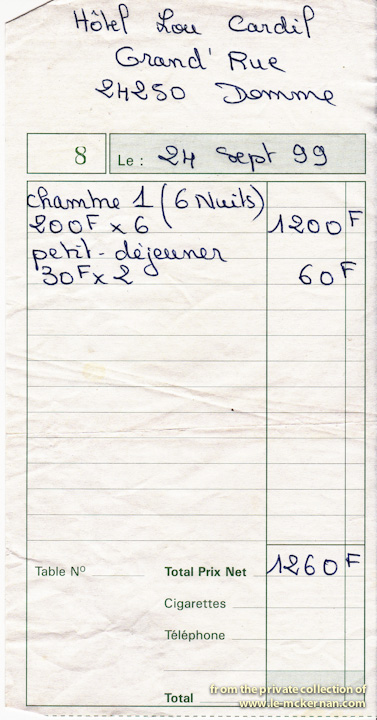 You will note that there are NO advertisements and NO sponsored links on this site.  (There isn't even a Facebook "Like" button.) This is because www.le-mckernan.com is written primarily for ourselves, our families & friends and fellow travellers.  Without exception, we pay for our travels ourselves and we receive no advantages, no credits and no discounts.  In short, the opinions / viewpoints/ recommendations / critiques expressed here are wholly independent.
The recommendations and comments below are based on first-hand experiences.  That said, every travel situation is unique; as such, what I've written may or may not be applicable in all circumstances.  Regardless, I hope that my reviews are helpful and that you have a safe and wonderful time exploring!
(Organised by alphabetical order of the countries.) 
China: 
Hotel:  The Aman Summer Palace, Beijing  
PROs:  location (on the grounds of the Summer Palace; as such, it meant that we had access to the grounds and thus avoided the massive queues to enter) and great service.  I particularly enjoyed the day excursion to a quiet section of The Great Wall whereby we were practically the only tourists there.  The hotel also arranged for a guide to take us trekking along this long stretch of the wall.  It was a very special moment because this section of the wall was completely unreconstructed and therefore completely authentic.
CONs:  it's an Aman and therefore it's expensive!
Where to Eat: 
England – London: 
Sadly, our longstanding favourite brunch place (Tom's in Notting Hill) has closed down.  As a result, our new brunch hangout is 

The Wolseley 

in Piccadilly.  Although the coffee and pastries are exceptional, the real gem at this establishment is the kedgeree which really has NO EQUAL . . . .  [ but one word of caution:  the kedgeree can be inconsistent; sometimes it is 'simply sensational' and occasionally it is 'above average'. ]

 

Ffiona's

 (51 Kensingston Church St.) – when I want delicious restaurant-quality food but in a quiet, cozy and friendly environment, this is the place I go.  It is home to fantastic comfort food served with warmth.  I am particularly very partial to Ffiona's chicken kiev as this is just simply delicious.

The Royal China of Bayswater

 — believe it or not, the dim sum here is BETTER than the dim sum in Hong Kong.  Seriously.  The queues here are scary so try to score the first-sittings otherwise you may face a long wait (especially during the Sunday lunch-brunch scrum).

Yauatcha

, Soho London — super posh and fusion dim sums that are delicious.  Highly recommend the venison puffs.

Bentley's

in Piccadilly for oysters and in particular, for their oyster croque monsieur.
For great Indian food:  

Cinnamon Kitchen

for posh Indian,

Dishoom

 (by Carnaby or the one near Kings Cross) for seriously yummy and moderately priced Indian, and finally 

Khan's

on Westbourne Grove for delicious affordable Indian.

Manti by Mike and Ollie

 (sadly, this is now CLOSED!!!) and

Tatami Ramen

 (for wonderful chicken gyozas) located under the arches in Flat Iron Square off Union Street in Southwark (near Borough Market).
Texas Joe  by London Bridge does an AMAZING smoked Texan Tonkotsu ramen!!! Imagine that!  This in my FAVORITE place for ramen in London and is leagues ahead of any competitors.

City Caphe

on Ironmonger Lane and

Moi An

on Fetter Lane for Vietnamese food (note: weekday lunch hours only)
Pique Nique has consistency issue but it has improved in my standing after multiple visits.  Famous for their tasting menu based on a Bresse chicken (I would agree!), I would also add that they do amazing French style mushroom omelettes for breakfast.  (Note: it does depend on the chef — sometimes, the omelette is almost spiritually light and amazing.  Unfortunately, it was also (just once) an uneventful simple and ordinary omelette.)
For a modern spin on Mexican food, there are 2 places to try:  El Pastor in Borough Market and Santo Remedio on Tooley Street.   If, I had to select one of the two, then Santo Remedio gets my vote as their soft shelled crab taco is just the best.  (That said, El Pastor's sea bass tacos are only 1 small notch below the crab tacos.)
For fine dining:

Club Social

at Tower 42 — great views and flawless food.

Le Gavroche

in Mayfair

Dinner

(Heston Blumenthal) at the Mandarin Oriental Hotel

For more details, please see the 2017 London mini-blog.
England – Yorkshire: 
The New Inn at Tickton

 (near Beverley, East Yorkshire) – this is a lovely country pub that serves honest and fresh produce.  I particularly like the fact that this pub sources it beef and pork from the local butcher at the Springdale Farm Shop.  [ DISCLOSURE:  I actually know the butcher personally and as such, I may be favourably biased.  That said, I know that she (the butcher) knows exactly where the meat comes from; the butcher's husband is the farmer!  As such, if you care about the providence of your food, then you can trust the providence of the meat from the Springdale Farm Shop. ]  The food at the New Inn is well cooked; the atmosphere is light and modern; the food is reasonably priced and the service is friendly — what more do you need from a country pub?
France:
Where to Eat: 
Le Lunch

 (Calanque, Sormiou, near Marseille) – although this establishment has very mixed reviews on TripAdvisor, we thoroughly enjoyed our lunch at Le Lunch.  Perhaps it was because we were there at the end of the season and the area was absolutely quiet.  Or, perhaps it was just a stunning sunny and glorious day to eat out on the deck.  Nonetheless, the food seriously impressed us with its simplicity, freshness and taste.  We would very happily eat at Le Lunch again and again and again.

Le Relais des Cinq Châteaux

 (Vezac, Dordogne) – ah . . .  this restaurant is responsible for our addiction to Gaperone cheese!  We had the most amazing tasting menu at this classic restaurant and when we thought it could not be a better experience, we were served Gaperone.  Ah . . .  heavenly cheese to follow a heavenly meal.

Châteaux de Fere 

(Fere-en-Tardenois) – the food was faultless and so was the service.  In particular, what makes this a special place for me was the fact that we enjoyed the meal so much that at the last minute we decided to eat there again after a long day driving around and exploring the nearby caves.  Although we were not properly attired, the staff made us feel completely welcomed and comfortable.  Highly recommend their degustation menu.

a cafe near the Abbaye Noirlac

, there is a tiny (but amazing) cafe-restaurant.  It doesn't look like much, but the lunch was so delicious that we actually came back for dinner later on.
Hong Kong:
Where to Eat: 
Nan Tei

(55 Staunton Street) – this is my favourite restaurant in Hong Kong.  If we have family and friends and we want to take them to a place that is consistently excellent but without the unnecessary grandeur and pomp, we would take them to this wonderful and cozy Japanese grill house.  It's not fancy.  It's not posh.  But the food is amazing.  Must-order dishes include:  lamb cutlets; salmon wrapped in bacon; asparagus wrapped in bacon; chicken wings stuffed with cheese (my favourite !!!!!).

Yardbird

– chicken and chicken and chicken.  But ohhhhh so yummmmmy.  I am very fond of the "chicken oyster".  And for vegetarians, I would recommend the "KFC" (which stands for Korean Fried Cauliflowers) and the mushroom risotto — both are winners.

Alfie's

  – we predominantly frequent Alfie's for cocktails.  Occasionally, we will eat there.  On the whole, the food is great (but a little pricey) and I would happily recommend this establishment.  However, I do have one objection and this is relates to the portion size of their steak and kidney pies.  The sizes are the same for a starter portion and for a main course portion.  Given that the main course is more expensive than the starter, I find this disagreeable.
Indonesia: 
Hotels:  Amandari (Ubud), Amanjiwo (Borobudur) and Amanusa (Bali)
PROs:  heavenly.  This is The Aman at it's best.  And, where better to enjoy The Aman than in Bali?   Btw:  the passionfruit soufflé at the Amanjiwo is NOT to be missed!
CONs:  expensive!  Also, if you do the "Bali & Beyond" package, I would recommend that you add extra days around the Amanjiwo visit to allow for travel and transit time.  (We extended our Bali & Beyond package to 11 nights:  5 nights at Amandari, 4 nights at Amanjiwo and 2 nights at Amanusa.  This was a wise decision because the transit to/from the Amanjiwo resort took almost a full day each way.)
Kyrgyzstan: 
Hotel:  Asia Mountains Guesthouse, Lineinaja 1A, City Center, Bishkek.  Tel: +996 312 69 02 35
PROs: clean, friendly staff, nice garden, good breakfast.  We would use this hotel again.
CONs:  near a rail line.
Restaurant: Old Edgar (hard to find as the entrance is almost hidden, located to the west side of the Russian Drama Theatre) in Bishkek.  This is a moderately priced restaurant featuring Central Asian and Russian food and is a good escape if you are tired of hotel food.  Good selection of food.  Friendly service.  I particularly enjoyed the beetroot and herring salad.  Yummmmmmy.
Market:  this is actually a WARNING  . . .  be careful at Osh Market in Bishkek as there are corrupt police officers working the market and targeting tourists.  (Pls see the Silk Road travel blog for more information.)
Mongolia: 
Restaurant:  Silk Road Bar & Grill (Jamiyan Guunii Gudamj, Ulaanbaatar) — oh thank you Lonely Planet for the recommendation!  We almost didn't try this place as it sounded "touristy".  But, as we passed by we noticed that lots of locals were eating there.  And, we were tired and hungry and decided to 'have a go' . . .  wise decision as the grilled lamb was soooooo lovely.  (We even tried to reverse engineer the marinade once we got home!)
Scotland:
Where to Eat: 
Chez Fleming 

(Laggan) – Private kitchen.  Reservations are nearly impossible — unless you know the owners.  I've never had a meal that I didn't like and I always look forward to my next time there.

The Cross at Kingussie 

(Tweed Mill Brae, Ardbroilach Road) — if you can't get in to Chez Fleming, then this is the next best thing.  But, don't be disappointed about Chez Fleming because the food here is very accomplished and the service is impeccable.   In fact, I would say that the quality and execution at The Cross is better than some of the "top restaurants" in London.  Every dish we had was beautifully executed and wonderfully flavoured.  And it was also very reasonably priced.  We ordered from the fixed menu (at GBP 55/person) and were wonderfully surprised by how much we got.  The amuse bouches were delightful and the freshly baked bread was sensational.  Friends recommended this establishment to us and we are so very grateful because The Cross is now  on our must-visit list every time we're in Scotland.

The Potting Shed 

(Inshriach Nursery, Aviemore) — for cakes and coffee/tea.  A gem of a place to stop off and have home baked cakes.  I particularly love their setup — if you are lucky and can snag a seat along the viewing platform, then you will have a glorious view of the plethora of birds (and squirrels) going bonkers over the multiple bird feeders.
Spain: 
Where to Eat in Barcelona:
Elysa Y Fred

 (Carrer del Rec Comtal 11) – we were tired and hungry and could not find a nice 'non-touristy' place to eat.  So, when we stumbled upon this modern and well presented restaurant, we were so happy to get a seat at the bar for a drink and light tapas.  The grilled squid was exceptional.  In fact, it was so good that we did a repeat visit later that week and enjoyed it the second time around. We normally don't like repeating places, but, for our last meal in Barca, we had dinner and we were not disappointed.  The salted cod checks with black rice was a wonderful (new) food sensation.

Carmelitas

 (Calle Carme 42) – very modern establishment that would not look out of place in Manhattan.  But it is also a very local Barca establishment — as demonstrated by the clear absence of tourists.  The standout dishes were: the burrata salad; smokey grilled beetroot salad with spicy yogurt; and veal with 'cuttlefish noodles'.

Le Bouchon

 (Mercer Hotel, Calle dels Lledo 7) – we did not know that this establishment was connected with the hotel until we were seated.  But once at our table, our regrets quickly evaporated.  Very good tapas and service.  The most memorable dish was 'baby sardines on filo pastry with caramelised onions and whipped cream' …..  it was a stunner of a dish!

Bodega La Punctual

(Carrer Montcada 22) – after visiting the Picasso Museum, Bruce and I were ready for lunch but we were weary about eating so close to the museum (i.e. tourist traps!).  As we were leaving the area, Bruce noted that this establishment was full of 'older Spanish men drinking wine' and he concluded that there is a high probability of this being a decent place to eat given that it was frequented by the locals.   He was wrong — it was not a decent place; it was a great place.  Of all the fabulous dishes we had, I particularly enjoyed the grilled octopus.

Caelum

 (Calle de la Palla)- a special mention is warranted about this establishment. Needless to say it is a fantastic cake shop.  But, they also do good coffee and cheesy/marmalady morning toasts.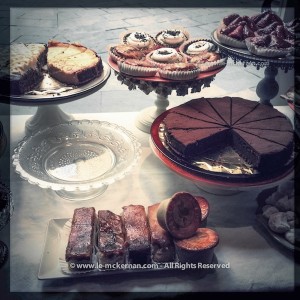 Where to Eat in Madrid: 
TriCiclo

 (C/ Santa Maria, 28) – the food is simply outstanding.  In fact, it was so good that we became repeat offenders and eat at this wonderful establishments multiple times during our 5 days trip to Madrid.  Reservations required — and is difficult to get.  HOWEVER, if you arrive when the restaurant opens (8PM) then you stand a very good chance of nabbing a table at the front of the restaurant.  (This is how we managed to get in on multiple occasions.)
Where to Eat in Sevilla: 
El Rinconcillo

 (Calle Gerona 40) – as mentioned in my blog, we'd accidentally stumbled upon this place and loved it so much that we made it our local tavern during our week in Sevilla.  We did not eat at the restaurant, but instead had tapas and wine at the bar.  On our last night, we treated ourselves to the homemade flan and it was the best flan I've ever had.

Restaurante Contenedor

 (San Luis 50) – the restaurant is famous for slow cooking and for serving local produce.  As such, it is very popular and reservations are absolutely necessary.  While we were there, we saw the hostess/manager turn away multiple walk-in customers who were attracted to the lively and charming buzz that this restaurant oozes.  Warning:  the dessert portions are huge!
 

La Mata 24

 (Calle 

Mata 24,

 

Alameda de Hercules) – a good alternative to Restaurante Contenedor (if you can't get booking) but be advised that this one gets busy as well.  We did a walk-in at 8PM and to our happy surprise, we got a table but within 30 minutes the place was packed with locals.  Fresh and modern dishes.   
Where to Eat in Granada:
Los Diamantes

(Plaza Nueva – across from the taxi ranks) — let's be honest here.  This establishment reeks of "tourist trap" as it is bang-center in the most touristy plaza in Granada.  But yet upcoming closer inspection, it is almost always full of locals.  The reason for this is that Los Diamantes is a rare gem:  very very good tapas, good service and all at an affordable price.  Highly recommend — and don't let the crowds deter you.  (Alternatively, go at a "quiet time" which is generally at 5PM.)
Where to Eat in Cordoba:
Mercado de la Corredera, Puesto (Stall) 21

 (Plaza Corredera) – the trick to finding this place is to ignore the outdoor seating plaza and head inside the markets.  Once indoor, find Stall 21 which is located in the furtherest righthand corner.  Then grab a seat or a stand if you see something available (because this place gets really busy — especially during the weekend and during a bank holiday) and then send your partner to the adjacent markets to buy fresh produce which the chef at this stall will cook for you.  The principle is simple:  you source the food you want to eat and you tell the chef how you want it cooked (fried, grilled, steamed, boiled or baked) and he'll produce a simple but wonderful dish for you (EUR 3 for a large plate).  And this stall sells wine and beer as well.  Perfecto!!!

Amarre

 (Calle Ronda de Isasa 10) – located near the Mezquita and along the river, this establishment was the perfect place to place our feet up and have a cold beer.  Whilst there, we saw the staff bring out beautiful plates of food so we decided to have a bite as well; we were pleasantly surprised by the quality and freshness of the food. The standout dish was the tuna tartar on a bed of avocados accompanied by a wonderful balsamic vinegar.

fusion by sojo

(Paseo de la Ribera) – a great place for breakfast.  Great location.

Taberna Los Berengueles

(de Torres Cabrera 7) – as we passed by this restaurants several nights prior, it was full of locals which piqued our interest.  One night we found ourselves back in this area and although we had no reservations, we decided to try our luck getting in.  We were indeed lucky as we managed to secure a table in the lovely courtyard.  Very soon thereafter the dinner crowd arrived and the place was buzzing.  The atmosphere was wonderful and relaxed (I loved the orange blossom scents wafting around the courtyard) and the food was good (the starters were exceptional — in particular, the pate platter and the white asparagus salad; the main course, however, was somewhat pedestrian).  Although this restaurant has room for improvements, I cannot fault this place for its honest approach to food and for the friendliness of the staff.
Sri Lanka:
Hotel:   The Wallawwa (www.thewallawwa.com), Colombo
PROs: a luxurious haven (could be mistaken as a "W Hotel") and a great launch pad to/from the airport; fantastic food!  Recommend that you arrange airport transfer with the hotel.
CONs:  expensive.  And bring a surge protector if you plan to charge your expensive electronics.  (Our surge protector did its job properly and protected my laptop from being fried.)
Hotel: The Summerville Bungalow (The Ceylon Tea Trails)
PROs:  fantastic and idyllic location, private chef and butler service, heavenly service.  (Plus:  chef baked a beautiful chocolate cake for Bruce's birthday).
CONs:  expensive
Driver:  Tropical Transport ( tropicaltrans@sltnet.lk )
Contact: Lesly David
PROs: reliable, good quality car, no malarky.  Would happily use this company again as a private taxi.
Turkey:
Hotel: Sultanahmet Palace Hotel (www.sultanahmetpalace.com) in Istanbul
PROs:  fantastic location (get the room with the view of the Blue Mosque), friendly service, good food.
CONs:  not sure any . . .   at the end of the day, this is our hotel in Istanbul.  First discovered this place in 2000 and have been returning to it ever since!
Cocktails:
Four Seasons Hotel, Sultanahmet

– great location and interesting building (this was previously a Turkish prison)

Mikla

(www.miklarestaurant.com) — great views!
USA – Washington, DC: 
The three best meals we had in DC are from:
USA – New York City: 
Restaurants:
Takahachi — simply THE BEST place for honest and superb sushi
 
Mogador Cafe and Bar, St. Marks

— for phenomenal brunches and hearty Moroccan food.  This is one of our all time favourite places and I can't highly recommend it enough.  (During peak hours, service could be improved, but, the food is amazing and well worth the slow-ish service.)
Cocktails:   King Cole Bar at St. Regis Hotel — has a wonderful Old Manhattan (old money) charm.
. . .   And FINALLY, please remember that according to the food-safety poster below, you should NOT eat fish with rhinoceros when you travel!!!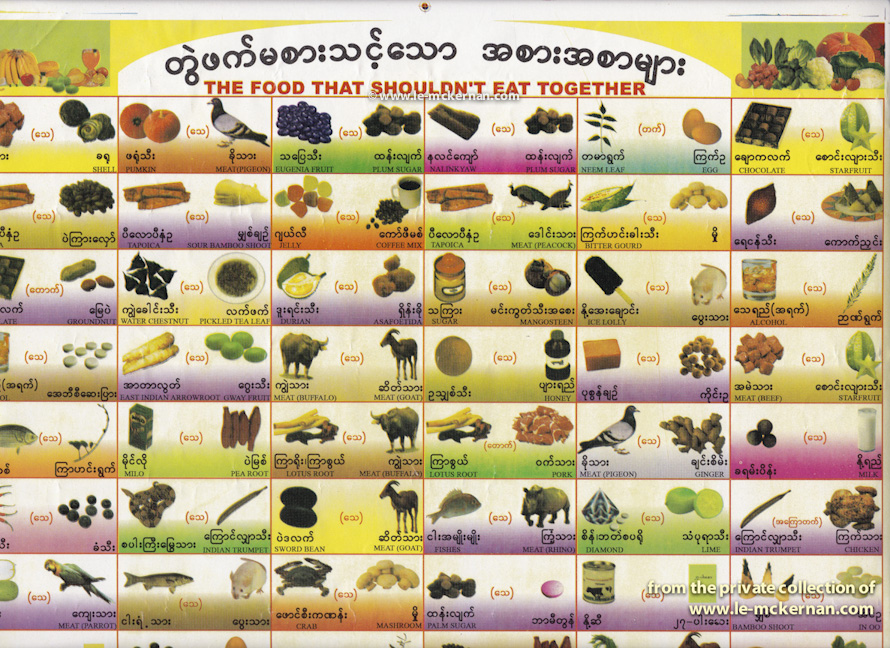 ---